Dozens of women have come forward with allegations of sexual misconduct against movie mogul Harvey Weinstein.
Oscar winners Angelina Jolie, Gwyneth Paltrow and Mira Sorvino have claimed that they rebuffed Weinstein's unwanted advances. Other women have alleged sexual harassment and sexual assault.
"Any allegations of nonconsensual sex are unequivocally denied by Mr. Weinstein," a spokesperson for the movie executive told The New Yorker. "Mr. Weinstein has further confirmed that there were never any acts of retaliation against any women for refusing his advances. Mr. Weinstein obviously can't speak to anonymous allegations, but with respect to any women who have made allegations on the record, Mr. Weinstein believes that all of these relationships were consensual," according to the full statement from Weinstein's spokesperson. "Mr. Weinstein has begun counseling, has listened to the community and is pursuing a better path. Mr. Weinstein is hoping that, if he makes enough progress, he will be given a second chance."
Weinstein was terminated by the board of the Weinstein Co. in light of the allegations and later resigned from the board of directors. He was also expelled by the Academy of Motion Picture Arts and Sciences.
Here is a list of women who spoke out on the record, along with their allegations against Weinstein.
Zelda Perkins
Perkins told The Financial Times that two decades ago, she was working as Weinstein's assistant at Miramax in London when, she claims, he sexually harassed her and sexually assaulted a female colleague. She says the two women ultimately settled with Weinstein for £250,000 (over $330,000), and in return, they signed non-disclosure agreements that prevented either of them from ever discussing the agreement. "I want to publicly break my non-disclosure agreement," she told the publication. "Unless somebody does this, there won't be a debate about how egregious these agreements are and the amount of duress that victims are put under. My entire world fell in because I thought the law was there to protect those who abided by it. I discovered that it had nothing to do with right and wrong and everything to do with money and power."
In response, Weinstein's spokesperson told The Financial Times: "The FT did not provide the identity of any individuals making these assertions. Any allegations of nonconsensual sex are unequivocally denied by Mr. Weinstein. Mr. Weinstein has further confirmed that there were never any acts of retaliation against any women for refusing his advances."
Brit Marling
The actress penned an essay for The Atlantic in which she detailed a 2014 meeting with Weinstein that she said was moved from a hotel bar to his suite at the last moment. During that encounter, she claims that Weinstein asked her if she wanted a massage, champagne and strawberries before suggesting that they shower together. "It was clear that there was only one direction he wanted this encounter to go in, and that was sex or some version of an erotic exchange. I was able to gather myself together — a bundle of firing nerves, hands trembling, voice lost in my throat — and leave the room," she wrote. "I later sat in my hotel room alone and wept. I wept because I had gone up the elevator when I knew better. I wept because I had let him touch my shoulders. I wept because at other times in my life, under other circumstances, I had not been able to leave."
Heather Kerr
Kerr claimed that in 1989, she was an aspiring actress and met Weinstein through the entertainment business manager for whom she was working at the time. She said Weinstein offered to meet with her to discuss her career, but when she arrived at his office, he allegedly unzipped his pants and forced her to touch his genitals. "He spelled it out for me: He told me that first I would have sex with him and then he would take me to parties and show me who I had to sleep with after that but that first he needed to know how 'good' I was," she said. "He told me that I was not that good-looking but that he would be willing to help me anyway — like he was doing me a favor." Kerr said she left his office, and soon thereafter, resigned from her job and quit acting. "I felt so powerless," she said. "I didn't think anyone would believe me. I was nobody. Why would they?"
Lupita Nyong'o
Nyong'o described in a personal essay in The New York Times an uncomfortable encounter with Weinstein that she says took place in 2011.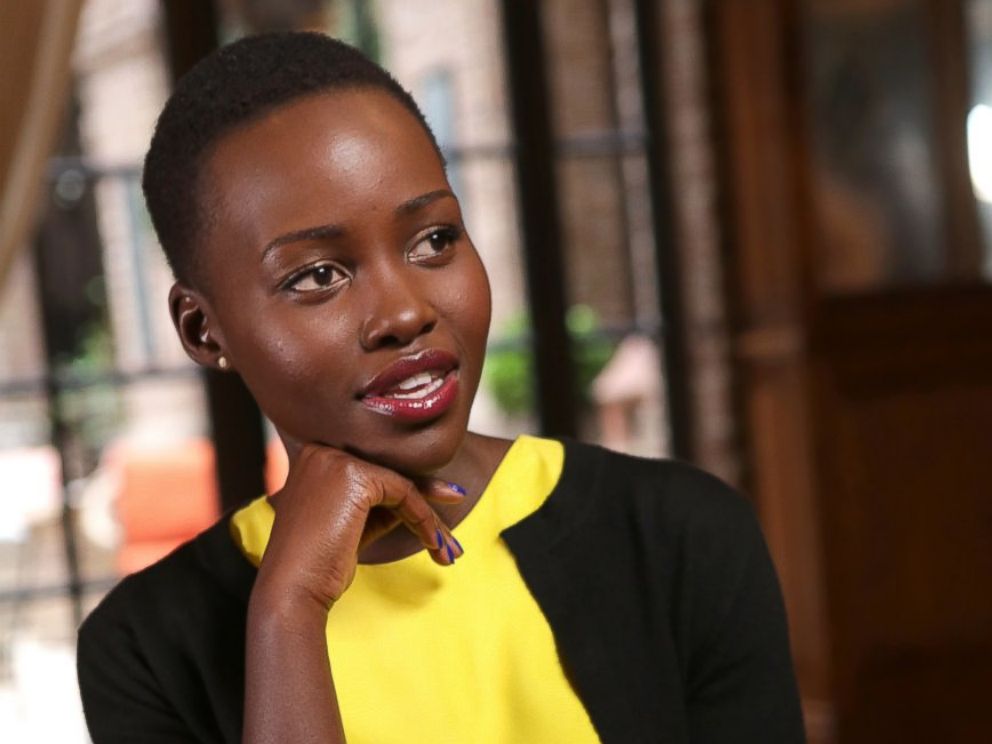 The actress, 28 at the time, says she was invited to the producer's Connecticut home, where he asked to give her a massage in his bedroom. Nyong'o says she declined, instead offering to give him a massage and remain in control. But when she did that, she says, Weinstein began to take off his pants, and she objected and quickly left.
Nyong'o says that at a later dinner with Weinstein, he asked her up to his hotel room alone and told her that if she wanted to be an actor she "had to be willing to do this sort of thing."
Weinstein, through a spokesperson, has denied the claims by Nyong'o.
"Mr. Weinstein has a different recollection of the events, but believes Lupita is a brilliant actress and a major force for the industry," the spokesperson said.
Lena Headey
The "Game of Thrones" star appeared in "The Brothers Grimm," a Miramax film, opposite Matt Damon in 2005. (Miramax was found by Harvey Weinstein and his brother.)
"At one point, Harvey asked me to take a walk down to the water," she wrote on Twitter Tuesday. "He stopped and made some suggestive comment, a gesture. I just laughed it off. I was genuinely shocked. I remember thinking it's got to be a joke."
Headey said she replied to Weinstein, "Oh, come on mate?! It'd be like kissing my dad!"
"I was never in any other Miramax film," she added.
Eva Green
The "Miss Peregrine's Home for Peculiar Children" star told Variety over the weekendin a statement, "I met [Weinstein] for a business meeting in Paris where he behaved inappropriately and I had to push him off. I got away without it going further, but the experience left me shocked and disgusted."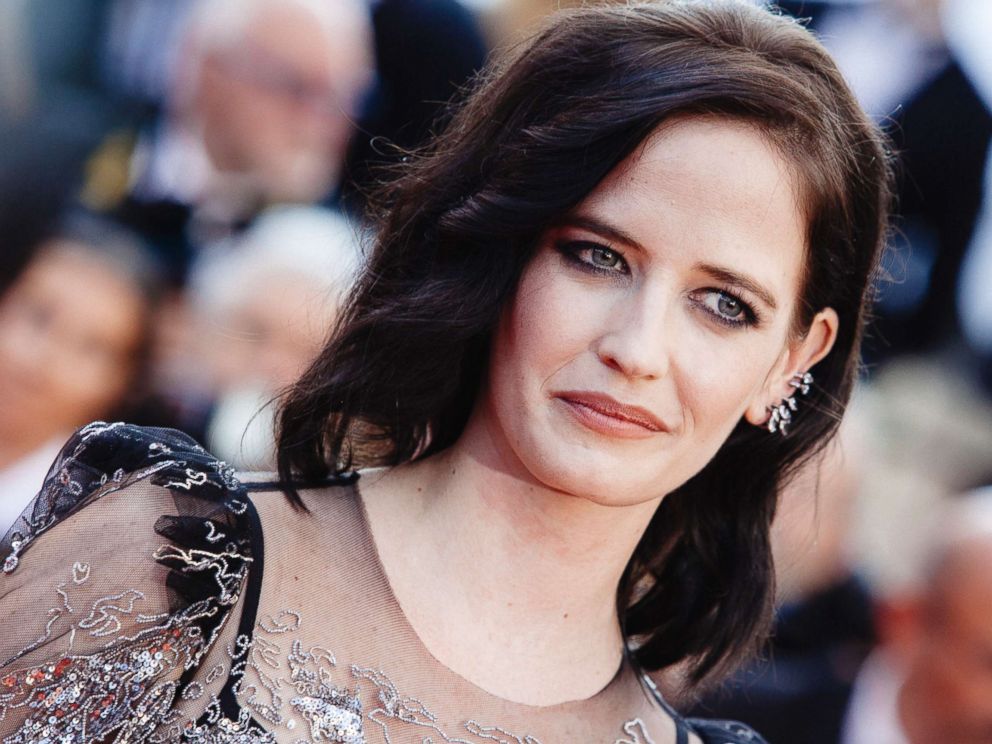 Green said that she kept silent until now because she wanted to "maintain my privacy."
"But I understand it is important to do so as I hear about other women's experiences. Women are often condemned when they speak out and their personal reputations tarnished by association," she added. "We should recognize that this sort of behavior exists everywhere and is not unique to the entertainment industry. The exploitation of power is ubiquitous. This behavior is unacceptable and needs to be eliminated."
Paula Wachowiak
The 62-year-old told ABC News affiliate WKBW in Buffalo that she was a production assistant on one of Weinstein's earliest films when she was allegedly harassed.
She said she worked mostly with an accountant on the film and took checks to get cashed at the local bank. One day she said she was asked to take some checks to Weinstein's room to be signed.
She entered his room and realized he was holding a hand towel around his waist, she alleged. At one point, Weinstein removed his towel and sat down completely naked, she claimed.
After reviewing the checks, she claimed he asked for a massage.
She said she declined his overture. He signed the checks, she said, and she was then able to leave, she claimed.
She said she later ran into Weinstein at the end of the shoot. According to Wachowiak, he asked her, "Was seeing me naked the highlight of your internship?"
She said she responded, "No, Harvey, actually you disgust me."
Lysette Anthony
The British actress and star of "Hollyoaks" told the Sunday Times that she was only 19 years old when she met Weinstein in 1982.
The actress said she and the producer kept in touch over the next few years, including having lunch in London from time to time. "We had become friends," she said.
But she told the Sunday Times that one night she met Weinstein for a drink and ended up back at his rented home where, she said, "The next thing I knew he was half-undressed, and he grabbed me." She can't say exactly when this happened, saying she is bad at remembering dates.
She says she fled but tels the Times that then one evening when she was home with a friend her doorbell rang, and it was Weinstein. "He pushed me inside and rammed me up against the coat rack."
She said she tried pushing him off but he was too heavy. "Finally I just gave up."
Anthony alleges Weinstein then raped her. She said that last week she went to the local police.
"I can't stand by and see all these brave women tell the truth and not stand up alongside them," she told the paper.
View image on Twitter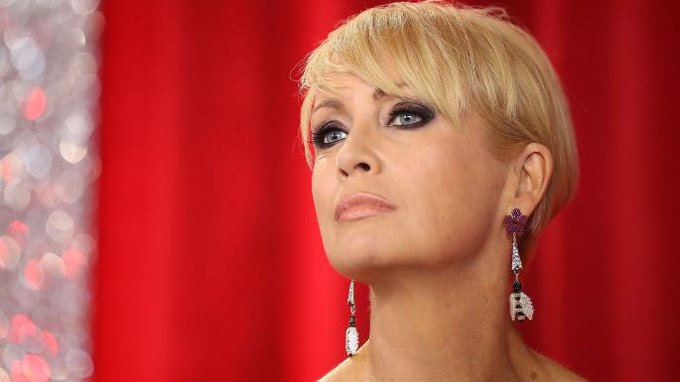 Rose McGowan
The New York Times reported that in 1997, Weinstein paid a settlement of $100,000 to McGowan following an incident in a hotel room during the Sundance Film Festival. McGowan has alluded to the alleged incident on social media. "I told the head of your studio that HW raped me," McGowan wrote this week in a tweet directed at Amazon CEO Jeff Bezos. "Over and Over I said it. He said it hadn't been proven. I said I was the proof."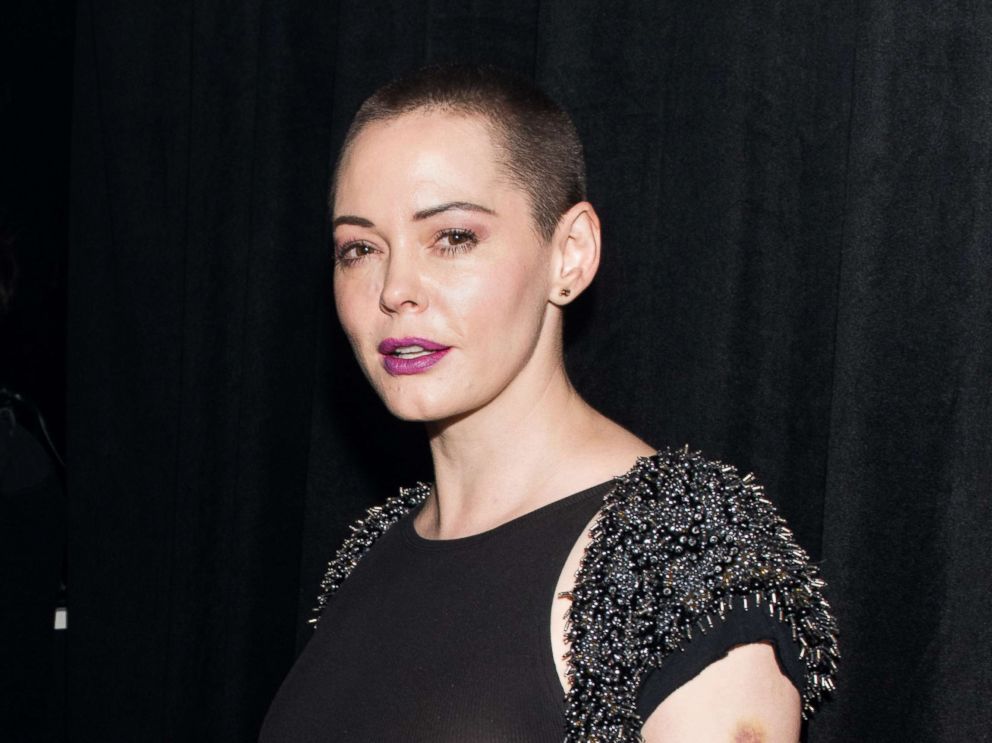 "We are reviewing our options for the projects we have with The Weinstein Co," Amazon told The Hollywood Reporter this week.
A spokesperson for Amazon did not immediately respond to ABC News' request for comment.
Minka Kelly
The actress claimed in an Instagram post that Weinstein once asked her to join him in his hotel room for a "general meeting," but after she claimed it made her uncomfortable, they met in a restaurant instead. Kelly claimed that after a five-minute conversation about film, Weinstein promised to give her "a lavish life" if she agreed to be his girlfriend. "All I knew was not to offend this very powerful man and to get out of the situation as quickly as possible. I told him while flattered, I'd like to keep things professional," she wrote. She alleges, "He said 'Fine. I trust you won't tell anyone about this.' I said 'Of course not. Thank you so much for taking the time to meet with me,' – the only way I could think to shut it down gracefully and excuse myself."
Kelly added that she regretted her response and was speaking out in support of the other women who had come forward with their own stories about the film executive.
Sophie Dix
The English actress told The Guardian newspaper that in the early 1990s she went to Weinstein's hotel room to watch footage of her new film. He tried to pin her down and undress her, she alleged. "He was really forceful," she said. After running to the bathroom, she said she opened the door to find him masturbating and later ran out when room service arrived. "I decided if this was what being an actress is like, I don't want it," she said.
Florence Darel
Darel, a French actress, told Le Parisien that despite her reservations, she agreed to meet Weinstein in his hotel room in the mid-1990s at the behest of her agent. At the time, the film executive was still married to his first wife, Eve Chilton, so she was taken aback when he allegedly propositioned her. "I told him I was very in love with my companion. He replied that it did not bother him at all and offered to have me become his mistress a few days a year. So we could work together," she claimed. She alleges that the implication was "basically, if you want to continue in America, go through me." Darel said she declined Weinstein's alleged advances.
Claire Forlani
The actress claimed on Twitter Thursday that she "escaped" from Weinstein on five different occasions. She claimed that at two meetings at the Peninsula Hotel nearly 20 years ago, she "ducked, dived and ultimately got out of there without getting slobbered over," and alleges that over the course of three dinners, he bragged to her about his famous conquests. "I knew Harvey was a master manipulator," she wrote. "I always thought I was a pro at handling these guys. I'd had a fair amount of experience. Sometimes I got angry. Really angry. I wondered why I had 'prey' stamped on my forehead."
View image on Twitter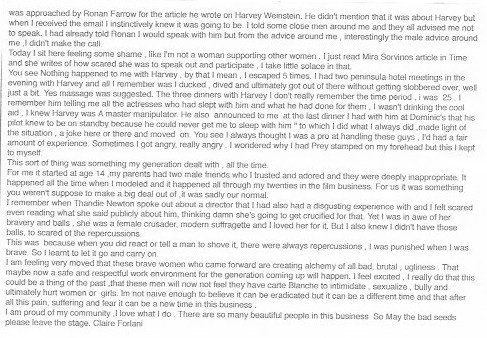 Kate Beckinsale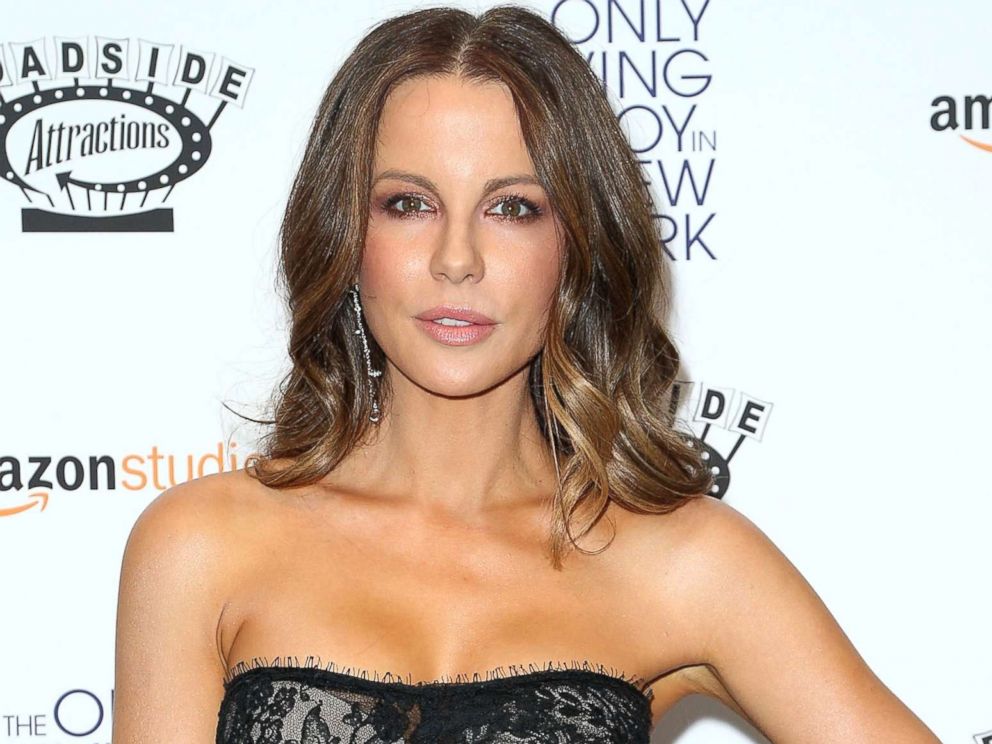 The actress took to Instagram Thursday, claiming that she "was called to meet Harvey Weinstein at the Savoy Hotel when I was 17."
Beckinsale, 44, said she assumed they'd meet in a conference room, but instead claimed she was told by the reception desk "to go to his room."
"He opened the door in his bathrobe. I was incredibly naive and young and it did not cross my mind that this older, unattractive man would expect me to have any sexual interest in him. After declining alcohol and announcing that I had school in the morning I left, uneasy but unscathed," she claimed.
Heather Graham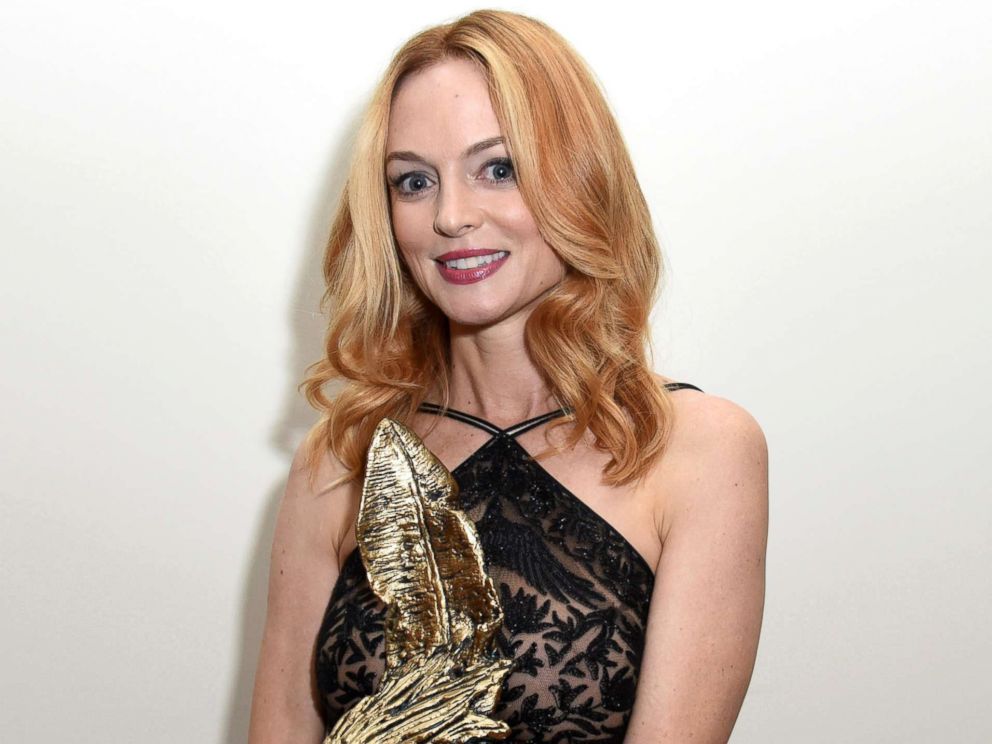 The "Boogie Nights" actress wrote in Variety that Weinstein had allegedly implied that she had to sleep with him to be in one of his films. "There was no explicit mention that to star in one of those films I had to sleep with him, but the subtext was there," she claimed.
"A few weeks later, I was asked to do a follow-up meeting at his hotel," she alleged. "I called one of my actress friends to explain my discomfort with the situation, and she offered to come with me. En route, she called me to say she couldn't make it. Not wanting to be at the hotel alone with him, I made up an excuse — I had an early morning and would have to postpone. Harvey told me that my actress friend was already at his hotel and that both of them would be very disappointed if I didn't show. I knew he was lying, so I politely and apologetically reiterated that I could no longer come by."
Graham, 47, said she was "never hired for one of his films, and I didn't speak up about my experience."
Cara Delevingne
The actress said on social media Wednesday that she's had two allegedly inappropriate incidents with Weinstein.
Delevingne, who has said that she is bisexual, alleged Weinstein once called to advise her against ever going public with a same-sex relationship for the good of her career. She also alleged that a year or so after that "odd and uncomfortable call," Weinstein brought her to a hotel room after a business meeting for an upcoming film, where she claims he asked her to kiss another woman before making a sexual advance himself. She rebuffed him and left.
When I first started to work as an actress, i was working on a film and I received a call from? Harvey Weinstein asking if I had slept with any of the women I was seen out with in the media. It was a very odd and uncomfortable call….i answered none of his questions and hurried off the phone but before I hung up, he said to me that If I was gay or decided to be with a woman especially in public that I'd never get the role of a straight woman or make it as an actress in Hollywood. A year or two later, I went to a meeting with him in the lobby of a hotel with a director about an upcoming film. The director left the meeting and Harvey asked me to stay and chat with him. As soon as we were alone he began to brag about all the actresses he had slept with and how he had made their careers and spoke about other inappropriate things of a sexual nature. He then invited me to his room. I quickly declined and asked his assistant if my car was outside. She said it wasn't and wouldn't be for a bit and I should go to his room. At that moment I felt very powerless and scared but didn't want to act that way hoping that I was wrong about the situation. When I arrived I was relieved to find another woman in his room and thought immediately I was safe. He asked us to kiss and she began some sort of advances upon his direction. I swiftly got up and asked him if he knew that I could sing. And I began to sing….i thought it would make the situation better….more professional….like an audition….i was so nervous. After singing I said again that I had to leave. He walked me to the door and stood in front of it and tried to kiss me on the lips. I stopped him and managed to get out of the room. I still got the part for the film and always thought that he gave it to me because of what happened. Since then I felt awful that I did the movie. I felt like I didn't deserve the part. I was so hesitant about speaking out….I didn't want to hurt his family. I felt guilty as if I did something wrong. I was also terrified that this sort of thing had happened to so many women I know but no one had said anything because of fear.

A post shared by Cara Delevingne (@caradelevingne) on Oct 11, 2017 at 10:39am PDT
She shared that she later landed the role in the movie, but always questioned why. Delevingne and Weinstein worked together on the 2017 film "Tulip Fever."
"Since then I felt awful that I did the movie. I felt like I didn't deserve the part," she wrote. "I was so hesitant about speaking out….I didn't want to hurt his family. I felt guilty as if I did something wrong. I was also terrified that this sort of thing had happened to so many women I know but no one had said anything because of fear."
Léa Seydoux
The French actress wrote in The Guardian that she saw Weinstein allegedly acting inappropriate several times throughout her career.
Seydoux also detailed one alleged incident when Weinstein invited her to "his hotel room for a drink." A female assistant then left the two of them alone. "That's the moment where he started losing control," she alleged.
"We were talking on the sofa when he suddenly jumped on me and tried to kiss me," she claimed. "I had to defend myself. He's big and fat, so I had to be forceful to resist him. I left his room, thoroughly disgusted. I wasn't afraid of him, though. Because I knew what kind of man he was all along."
Ashley Judd
Judd told The Times that about 20 years ago, she was invited to a Beverly Hills hotel, where Weinstein asked for a massage or to have the young actress watch him shower.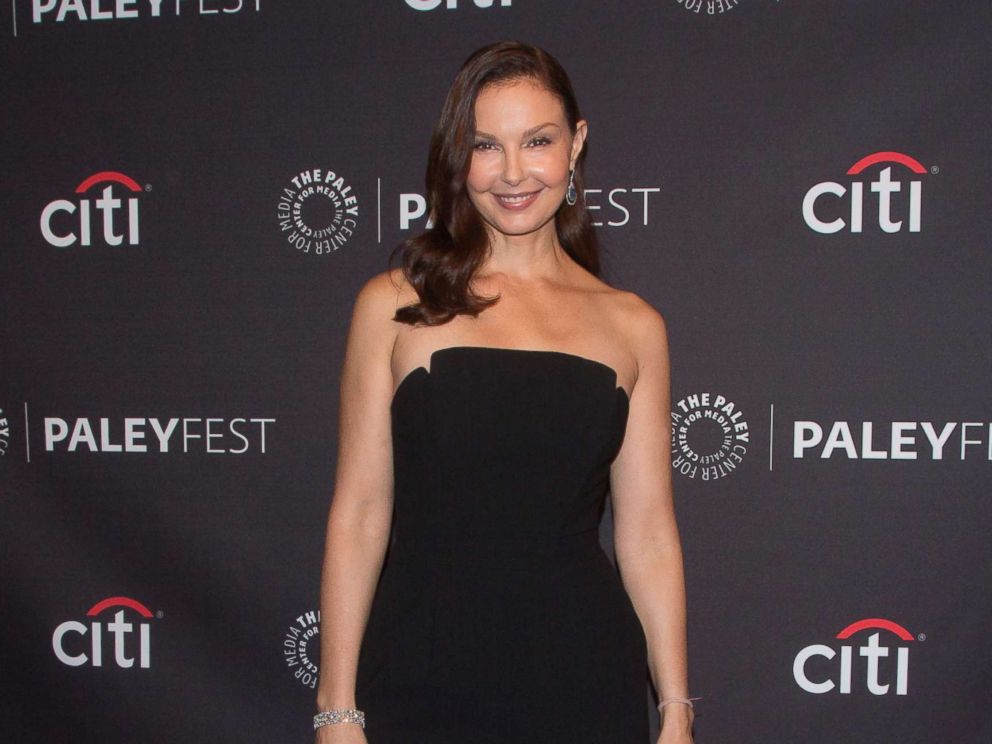 "I said no, a lot of ways, a lot of times, and he always came back at me with some new ask," she said in the Times story from last week. She rebuffed him but later appeared in two of his films without incident, she told the Times.
Mira Sorvino
The Oscar winner found herself in a hotel room in 1995 with Weinstein, she told The New Yorker.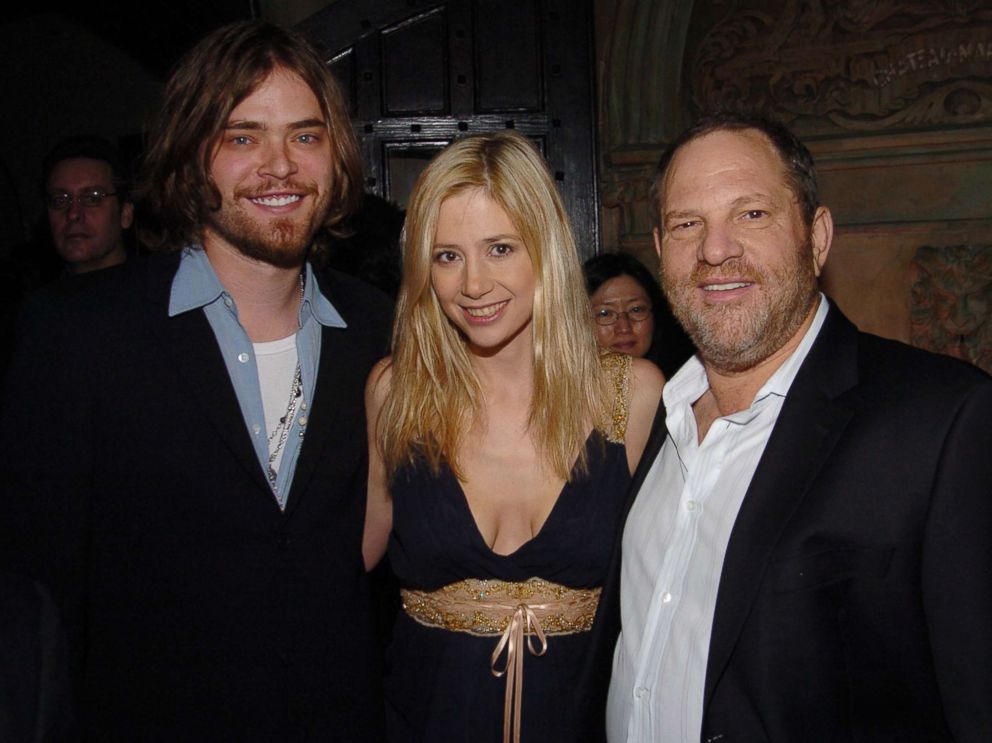 "He started massaging my shoulders, which made me very uncomfortable, and then tried to get more physical, sort of chasing me around," she said, adding that she then left the room.
She believes that her rebuttal hurt her career, though she maintained a relationship with Weinstein's brother, who she says she never told about the incident.
Lucia Evans
Evans told The New Yorker the assault began in 2004. She was aspiring actress and said Weinstein "forced me to perform oral sex on him."
"I said, over and over, 'I don't want to do this, stop, don't,' " she said. "He's a big guy. He overpowered me."
Asia Argento
The Italian actress was invited under the guise of a "party" in 1997, but only found Weinstein in his hotel room, she told The New Yorker.
He asked for a massage then forced oral sex on her, she said.
"I was not willing," she said. "I said, 'No, no, no."
Argento maintained a relationship with Weinstein and had consensual sexual relations with him multiple times over the course of the next five years.
Ambra Battilana Gutierrez
Gutierrez was a model in 2015 when she said she went to Weinstein's office for a business meeting, she told The New Yorker. She claims he groped her and tried to reach his hand up her skirt. She reported the alleged assault to the New York Police Department.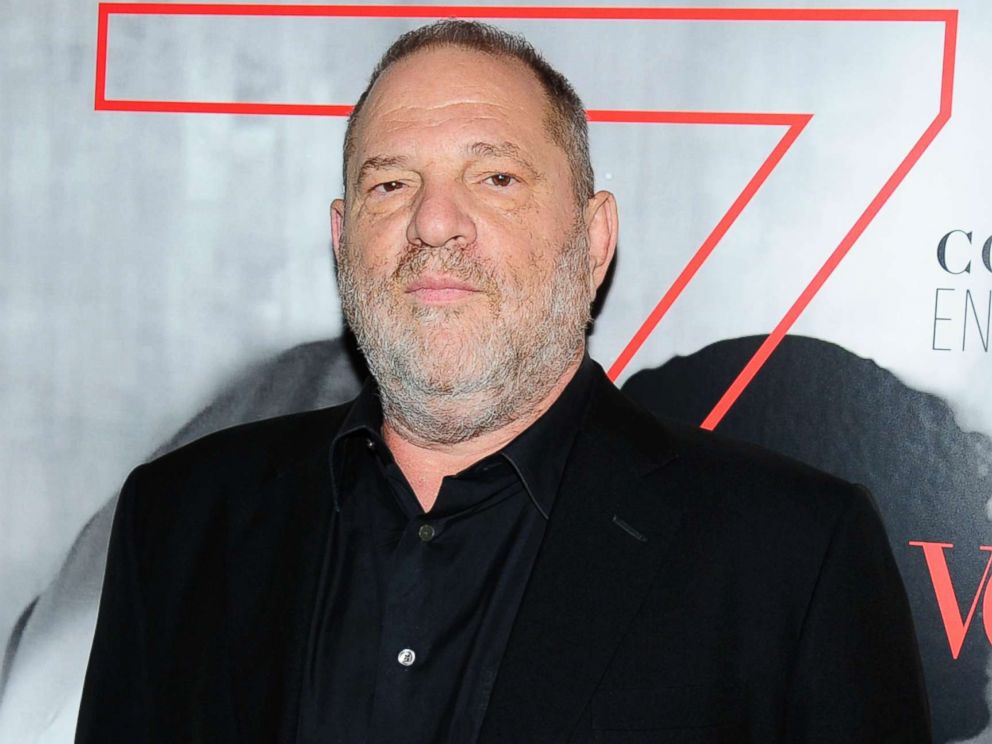 The next day, she met with Weinstein again wearing a wire in the hope of recording a confession. In the recording, the model asks Weinstein why he had grabbed her breasts the day before. He replies, "Oh, please, I'm sorry, just come on in. I'm used to that. Come on. Please," according to audio released by the New Yorker.
As the recording continues, Weinstein tries to convince her to come into his hotel room while he showers despite her protests. After a nearly two-minute encounter, he agrees to let Gutierrez leave.
The Manhattan District Attorney's Office decided not to file charges after a two-week investigation and Weinstein was never prosecuted. They later reached a confidential settlement that included an affidavit that behavior he confessed to did not happen.
Rosanna Arquette
Arquette said she met Weinstein in his hotel room in the early 1990s.
She claims Weinstein tried to force her to give him a massage, then tried to force her hand on his genitals. Although she did have roles in subsequent films, she claims her refusal hurt her career from that moment on, she told The New Yorker. Arquette also spoke to The New York Times.
Emily Nestor
She was a front desk assistant for Weinstein, and she told The New Yorker that when she first began working for the producer in 2014, he asked her to coffee.
There, she alleges Weinstein told her, "I could put you in my London office, and you could work there and you could be my girlfriend."
She told The New Yorker that it's a "clear case of sexual harassment." She told The New Yorker that she did have a conversation with company officials but did not pursue it because she was told Weinstein would be informed of everything she said.
Emma de Caunes
The French actress told The New Yorker that in 2010, she went to his hotel room under the impression that they would discuss a potential movie role. He took shower and came out naked. She claims Weinstein demanded that she get on the bed.
She declined and left.
Jessica Barth
Barth, an actress, told The New Yorker that she met Weinstein at the Golden Globes in 2011 and she was also invited to his hotel room, where he dangled a film role over her in exchange for a "naked massage."
She refused and left.
Gwyneth Paltrow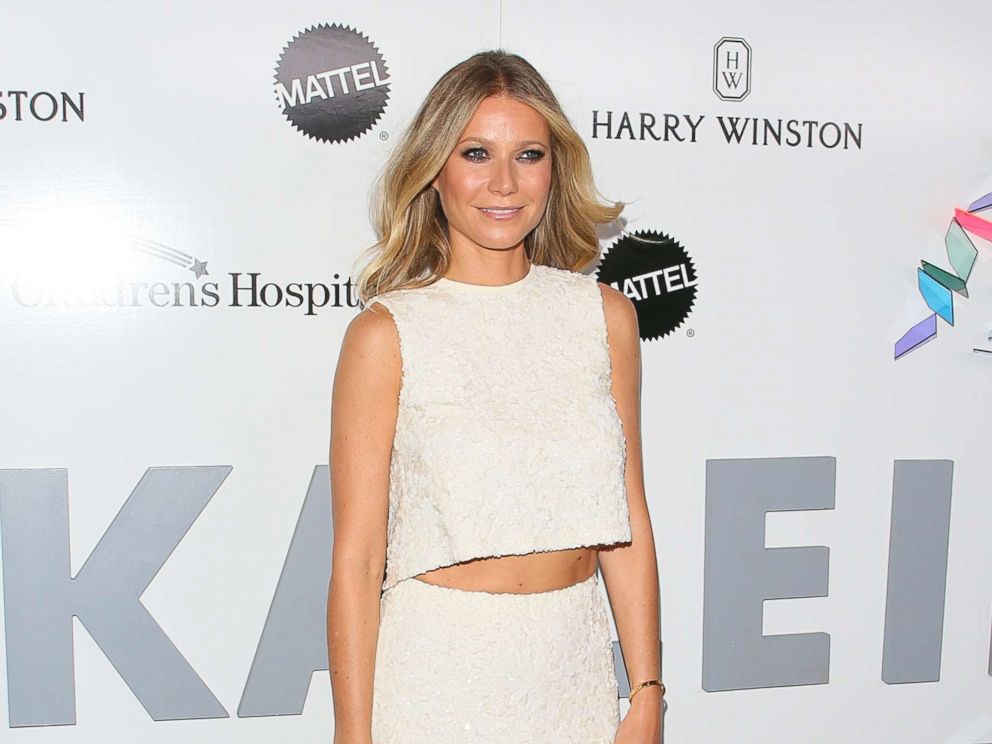 The actress credits Weinstein with giving her her star-making role in the film "Emma," and according to her interview with the New York Times, before filming began, Weinstein invited her to join him for massages in his hotel room, which she declined.
Paltrow said their relationship was rocky for some time afterward, as Weinstein was apparently angry that she'd confided in her boyfriend at the time, Brad Pitt. Paltrow went on to win an Oscar for another Weinstein-produced film, "Shakespeare in Love."
Angelina Jolie
Jolie said in an email to the Times that she rejected unwanted advances from Harvey Weinstein in the '90s and from that point forward, made a point to warn other women against working with him.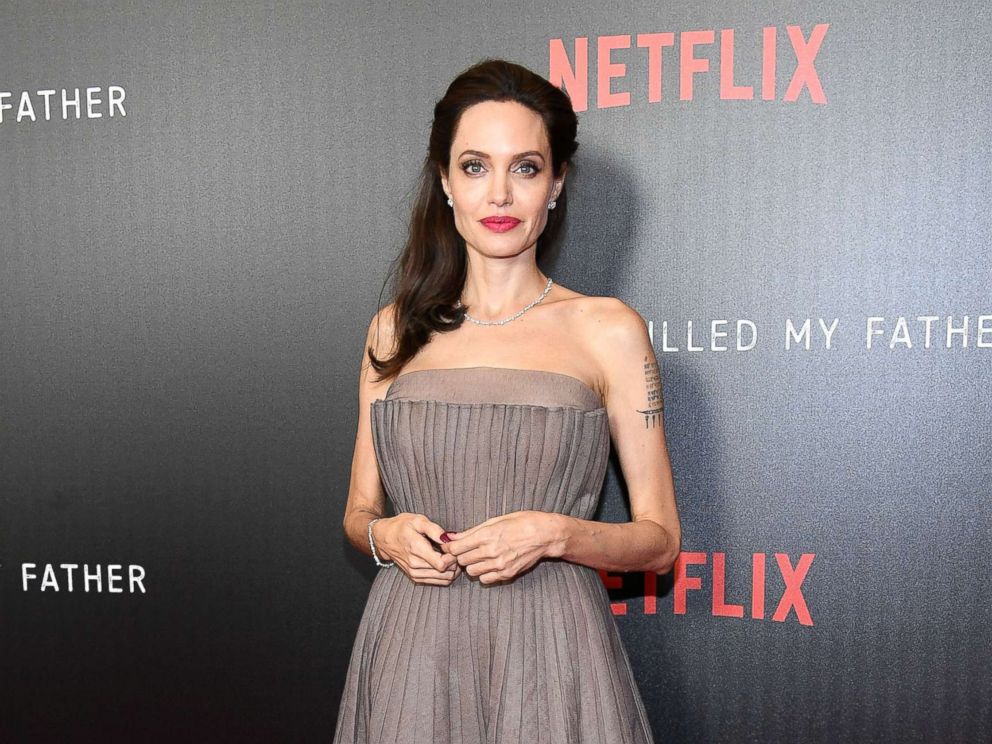 Tomi-Ann Roberts
The aspiring actress told the Times that she met Weinstein in 1984 and hoped he could help her career. She said she arrived to a meeting to find him nude in a bathtub and claimed he suggested "getting naked in front of him" to help with her audition. She declined.
Katherine Kendall
Kendall claimed in an interview with the Times that after she refused to give Weinstein a massage in the early '90s, he asked her to show him her breasts. She said no.
Judith Godreche
The French actress told the Times that at the 1996 Cannes Film Festival, Weinstein asked her to give him a massage and after she said no, she found the producer "pressing against me and pulling off my sweater." She managed to leave the room.
A female Miramax executive told her to keep quiet, she alleged.
Dawn Dunning
Dunning, a former actress, told the Times that Weinstein allegedly offered her contracts for his next three films if she would have three-way sex with him. When she declined, she claims he allegedly told her, "You'll never make it in this business."
Louisette Geiss
During a Tuesday press conference with her attorney Gloria Allred, Geiss, a former actress and screenwriter, accused Weinstein of offering to greenlight her script if she'd watch him masturbate. She left the room, and soon thereafter, the industry.
Laura Madden
The former Weinstein Co. employee told the Times that Weinstein repeatedly asked for massages.
"It was so manipulative," she claimed. "You constantly question yourself — am I the one who is the problem?"
Zelda Perkins
The Times reported the former London assistant to Weinstein while he was at Miramax confronted her boss about his alleged treatment of her and others back in 1998, threatening to initiate legal action or go public with her story if he didn't change his behavior. Perkins settled with a company lawyer and declined to comment, according to the Times.
Romola Garai
The British actress told The Guardian that when she was 18 years old, she allegedly had to meet Weinstein in his hotel room.
"So I had to go to his hotel room in the Savoy, and he answered the door in his bathrobe," she claimed. "I was only 18. I felt violated by it, it has stayed very clearly in my memory."
Garai claimed she spoke to Weinstein while he sat there in a bathrobe. "The point was that he could get a young woman to do that, that I didn't have a choice, that it was humiliating for me and that he had the power. It was an abuse of power," she said.
Sarah Ann Masse
The comedian claimed she had an encounter with Weinstein back in 2008 when she was interviewing to be the nanny for his three children with Eve Chilton. After several interviews with female assistants, Masse claimed that Weinstein asked to meet with her.
When she arrived to his Connecticut home, he was in his "boxer shorts and an undershirt," she told Variety.
At the end of the interview, she claimed Weinstein "gave me this really tight, close hug that lasted for quite a long period of time. He was still in his underwear. Then he told me he loved me. I left right after that."
Liza Campbell
The writer wrote in The Times of London that in 1995 she had an inappropriate encounter with Weinstein in his hotel room.
Although others were there when she arrived, they suddenly "vanished," she claimed.
"I could hear him moving around and suddenly the sound of bath taps running," Campbell, whose father was the 6th Earl of Cawdor, claimed. "'What do you say we both jump in the bath?' he hollered. I could hear the thump of shoes being taken off and felt shocked that the meeting had turned sleazy."
She said she found an exit and left.
Zoë Brock
The New Zealand writer and model wrote in a blog on Medium that she allegedly had an inappropriate encounter with Weinstein when she was 23 years old in his suite at the Hotel du Cap-Eden-Roc.
"Harvey left the room, but not for long," she wrote. "He re-emerged naked a couple of minutes later and asked if I would give him a massage. Panicking, in shock, I remember weighing up the options and wondering how much I needed to placate him to keep myself safe. He asked if I would like a massage instead, and for a second I thought this might be a way to give him an inch without him taking a mile."
She said she confronted him and emerged physically unharmed by the experience but it was nonetheless shocking.
Lauren Sivan
In 2007, Sivan was a news anchor on Long Island 12, a local cable channel in New York, when she said she met Weinstein at a New York City restaurant.
"We talked about news, we talked about politics, we talked about our love of history," she told ABC News' "20/20." "He was really flattering … which at the time made me feel great."
Sivan said they left the restaurant and went to a club, where Weinstein said he was an owner, and she accepted when he offered to give her a tour of the downstairs kitchen area. But when she got there, she realized the area was empty and said she became uncomfortable.
"He's blocking the exit with his body," she claimed. "He leaned in to kiss me at that point, and I recoiled. I realized, 'Oh, this is a bad situation.' I apologized to him. I said, 'I'm so sorry if I gave you the wrong idea. I'm in a relationship.'"
"He said, 'Just stand there and be quiet,'" Sivan alleged.
A day or two later, Sivan said Weinstein called her and asked to meet up with her again. She said she told him she wasn't interested and after that, she said she never heard from him again. Sivan said she has shared her story with friends but never spoke about it publicly until now and never reported it.
Juls Bindi
In an interview with "20/20," Bindi alleges that Weinstein attacked her in 2010. At the time, she was a 29-year-old massage therapist working in Hollywood and said she met the film executive at a movie screening she attended with a friend.
Bindi, who said she already had other high-profile Hollywood clientele, said Weinstein arranged for a massage appointment with her at the Montage Hotel. Then, he arranged for a second appointment.
That time, she said, he was wearing a bathrobe when she walked into the hotel room and disrobed in front of her. Startled, Bindi said she stepped into the bathroom for a few moments. When she came back out, Bindi said he was lying on the massage table and she started the massage, though he cut it short.
Bindi said Weinstein then got up and began asking her about his genitals. She said she ran into the bathroom and he followed her and started masturbating in front of her.
"I'm like, 'Please, this is not appropriate, I do not feel comfortable. No. Do not do this in front of me. This is not OK. This is not professional behavior,'" she said. "He continued to do it, and I tried to get by him. He grabbed me, started groping on my chest, and he kept going, and I pushed him away."
Bindi told "20/20" she was "shocked" by what happened. She went to quickly pack up her massage stuff and then said Weinstein asked her if she wanted a book deal.
"I said, 'Sure,'" Bindi said. "What am I going to do? … In just one second he could've destroyed my career, destroyed my reputation."
The book deal never went through, she said, and she has never spoken publicly about what she said happened until now.
"He just faded away," she said. "He invited me to some of his movie premieres, which I took friends to. I went… because I wanted to meet people to get them as clients. I'm ashamed, but, what do you do?
The only reason I'm coming forward now, which I wasn't going to," Bindi continued. "[Is] because there were 10 girls already who came forward."
Paula Williams
Williams said she was a working model and an aspiring actress who had been living in Los Angeles for about a year when she said she met Weinstein at an Oscar party in 1990. She said Weinstein then invited her to a dinner party he said he was having with other people she should meet.
On the night of the party, Williams, then 20 years old, said Weinstein sent a car for her that took her to a house in Hollywood Hills.
"I walk in, and it's just Harvey," she told "20/20." "He immediately starts massaging my neck as I walk in so I know right away that this … is going to be uncomfortable."
Williams said she excused herself to go out on a balcony to smoke a cigarette and compose herself. When she went back inside, Williams said Weinstein had opened a bottle of champagne, and said, "I don't think I had a sip and he exposed himself."
Williams said she quickly went to the door and walked out. She said she zigzaged her way through neighbors' backyards, trying to get away from the house, and never looked back. She said she hasn't spoken publicly about her experience until now, and has lived in shame of what she said happened ever since.
"The reason why I didn't like talking about it and the reason why I would never come public with it before is, it was a deep shame," Williams said. "[When] Gwyneth [Paltrow] said something in the press about it, and she had experiences as well. And all of a sudden I just felt it lifted."