Arie Luyendyk Jr.'s loss is America's gain.

It's official: Becca Kufrin is the next star of The Bachelorette. And it's safe to say all of America is rooting for her to find love this time around after her experience on The Bachelor. The announcement was made during The Bachelor's After the Final Rose special on Tuesday night…and after Arie made one of the most controversial moves in the ABC hit franchise's long history.

"This is crazy!" Becca said after host Chris Harrison made it official. "I have some big shoes to fill, that's for sure. I want to be the best damn Bachelorette I can be. So I'm so excited. I want to find love. I want to meet so many amazing guys. I'm just ready to do this!"
Harrison said picking Becca as their next lead was an "easy decision," and Becca said it was the same for her.

"It was easy, too, honestly, once I got past the initial heartbreak," she said. "At the end of the day, the show is about finding love. That's all I want to do. I have so much love to give. So hard yes, all-around!"

And while she wouldn't say she is "a love at first sight" person, Becca is ready for anything. "I'm open to all possibilities, so it might happen. We'll see. We'll find out!"

Like Harrison said, "The guys are very lucky!"
After proposing to Becca in the season 22 finale in Peru, it was revealed Arie had a change of heart, breaking up with Becca to pursue a relationship with Lauren Burnham, his initial runner-up. Bachelor Nation quickly became #TeamBecca in the 40-minute unedited (sometimes split-screen!) blindside breakup scene that aired on Monday night.
Prior to Becca being announced as the next Bachelorette, Arie got down on one knee, with Lauren accepting his proposal.
When she sat down with Arie for the first time since their break-up, Becca said she was ready to move on to the next chapter of her story.

"I'm always going to have love in my heart for you," she told him. "You were my fiancé and I did fall in love with you, but at this point too…I'm moved on. I'm ready for the next chapter of my life, to be happy, to find someone better suited for me, like Lauren is for you. I don't want to keep looking in the past, I want to move forward."

And what better way to move forward than by having 30 men compete for you?!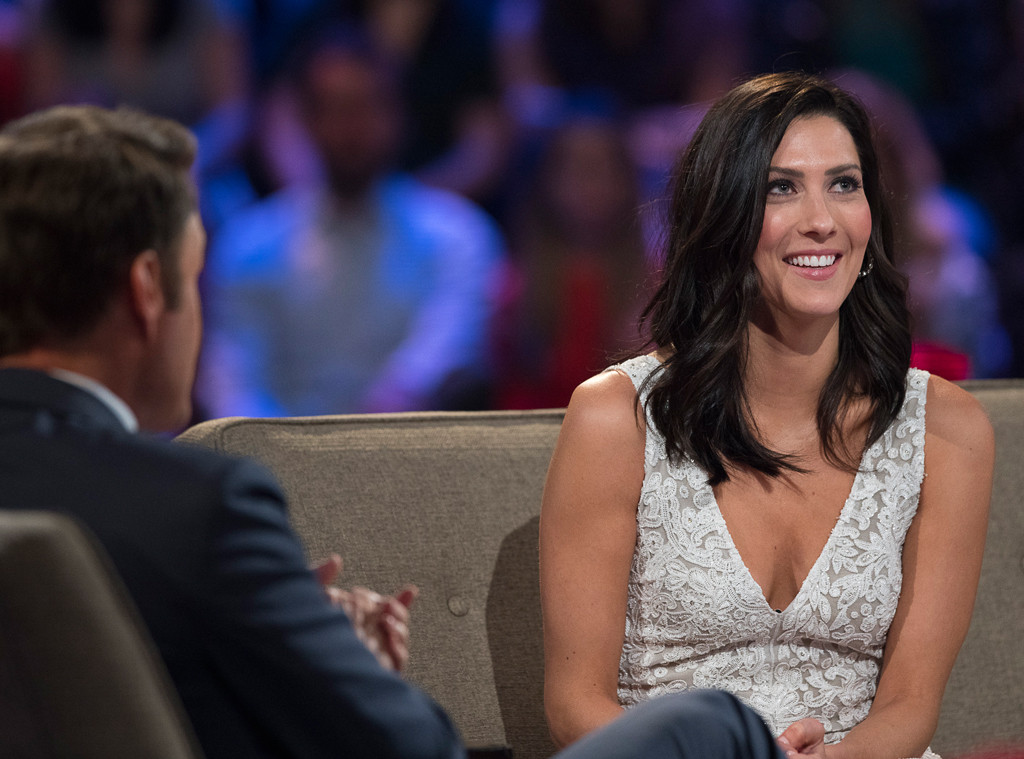 Earlier in the special, Becca sat down with Harrison to talk about how she's doing after watching the finale play out.

"I'm doing well," she said. "It's obviously still hard to watch it all back and to relive those moments but it also helps me get closure. I feel like now that I've seen all sides of the story and where his heart lies, I wasn't for him. If I'm not the one, I'm not the one. I'm doing OK."

Of the outpouring of love and support she's received since the finale aired, Becca said, "It fills my heart."

As for how she felt about being blindsided by the break-up and having it aired unedited, Becca explained, "it was real, it was raw, all of those emotions…but you know, everyone was held accountable for what went down. I signed up for this knowing it was a show and my life was going to be documented and it's just another part of my story.
While Becca told People that she's forgiven Arie for breaking up with her, she said, "There was a better and more tactful way to do it. A breakup is hard enough, and to have it all filmed and have to re-watch it and know that people all across the country are watching you get your heart broken, it is embarrassing. It's not fun. I wouldn't wish it on my worst enemy. It was like a slap in the face."

Becca, 27, is a publicist from Minnesota, who quickly became a frontrunner during the season after having the first one-on-one date with Arie. And Arie's finale proposal wasn't the only one she fielded, as her ex-boyfriend of seven years Ross showed up in Peru after the Fantasy Suite date to try and win her back. (It didn't go so well for him.)