Justin Bieber's manager says the pop star's meltdown in 2014 was "worse than people realised".
Speaking to the Wall Street Journal, Scooter Braun said he feared for the singer's wellbeing at the time.
"I failed him day after day. We were living in hell because he was in such a dark place."
2014 was a year to forget for Justin Bieber which included being accused of smoking marijuana and taking prescription drugs.
He was arrested for being involved in what police described as an illegal street drag race in Miami and linked with an attempted robbery in LA.
In April, Justin Bieber posted an Instagram photo of the mugshot from his arrest in Florida.
As well as those incidents, the star was charged with throwing eggs at a neighbour's house in LA, charged with assaulting a limousine driver in Toronto and was sued in Miami by a photographer who says he was attacked while taking pictures of the singer outside of a recording studio.
He caused upset on social media after posting a picture of a Japanese war shrine on Instagram and compared an accident he had in LA to the one in which Princess Diana died.
He also apologised after claims he used the n-word and joked about joining the Ku Klux Klan.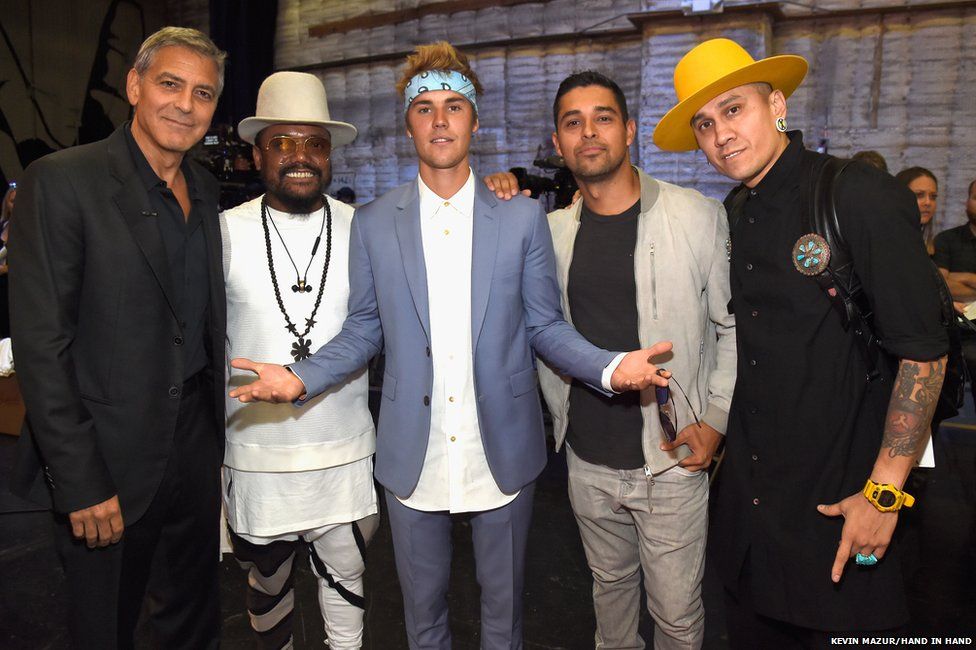 Image captionJustin Bieber helped to raise money for hurricane victims in September with George Clooney, Wilmer Valderrama as well as apl.de.ap and Taboo from The Black Eyed Peas
Speaking about Justin Bieber's meltdown, Scooter Braun said: "I have inconveniences, and other people have problems. Mine feel important, but they're not.
"They're not life or death. Justin's stuff got to a point where it was a problem."
Scooter, who also manages Ariana Grande and Kanye West, said that while a lot of people in the music industry lost faith with Justin Bieber in 2014, he didn't.
"Some of the biggest people in the industry, people invested in Justin's career, told me, 'It's over. Focus on something else. That kid is done.'
"[But] I made a promise to him when he was 13 that I would never give up on him. I plan on keeping that promise.
"I think he's seen the worst of himself, and to watch him rise out of it was amazing."
Source: BBC