The 2018 Oscars may be six months away, but the starting gun has been fired on the film awards race with the opening of this year's Venice Film Festival.
Venice is the first launch pad for Oscar-worthy films – La La Land, Arrival, Spotlight, Birdman and Gravity all had their world premieres there.
This year's festival is opening with the premiere of Alexander Payne's Downsizing, starring Matt Damon.
Variety predicted that it should go on to be "a leading awards contender".
The film, in which Damon plays a man who literally gets shrunk, has been met with gushing reviews from most critics in the Italian city.
The "playful, spectacular, mischievous, and audacious" film is likely to be "a major draw at the box office", wrote Variety's Owen Gleiberman.
He described it as "a ticklish and resonant crowd-pleaser for grown-ups" and "a kind of live-action Pixar movie on acid".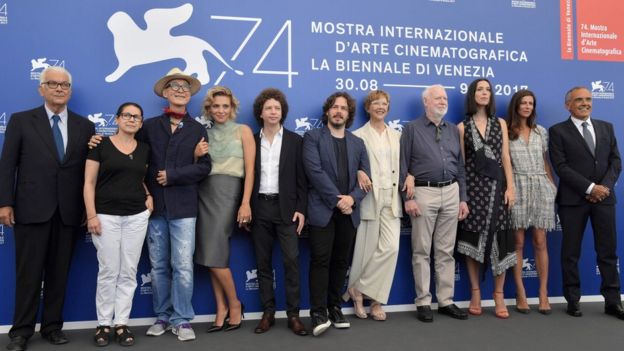 Image caption. The Venice Film Festival jury faced the cameras on Wednesday
Characters in the film go through a revolutionary scientific technique to get more living space, make their money go further and reduce their environmental footprints.
The Telegraph's Robbie Collin judged it to be "exhilaratingly odd", while The Guardian's Xan Brooks declared it a "miniature masterpiece" deserving five stars.
"No sooner I had it pegged as a jaunty black comedy than it starts folding in elements of dystopian sci-fi, or compassionate human drama," he wrote.
"A less polished director might have become lost and confused along the film's lengthy running-time. But Payne's handling is perfect.
"He never puts a foot wrong, rustling up a picture that is as bright as a button and as sharp as a tack."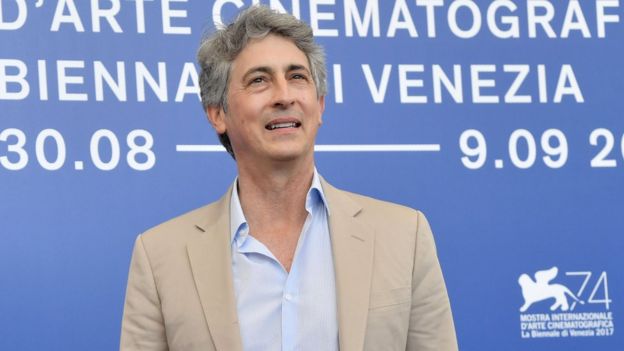 Image caption. Is Downsizing director Alexander Payne's best film to date?
The Hollywood Reporter's Todd McCarthy said Payne had never made a bad film – his others include Sideways and The Descendants – adding that the "moving and beautiful" Downsizing is arguably his best yet.
"Captivating, funny and possessed of a surprise-filled zig-zag structure that makes it impossible to anticipate where it's headed, this is a deeply humane film that… feels both entirely of its moment and timeless," he wrote.
"It was a risky roll of the dice, but one that hits the creative jackpot."
Analysis by Lizo Mzimba, BBC entertainment correspondent
The start of the Venice Film Festival marks the beginning of the film awards season – a season that will finish with the 2018 Oscar ceremony next March.
For film studios and independents, the next few weeks are crucial for launching movies for which they have high awards hopes. Venice kicks things off, followed by the Telluride Film Festival on Thursday and the Toronto International Film Festival next week.
Telluride has given audiences their first chance to see such best picture winners as Moonlight and The King's Speech, while winners of the People's Choice Award at Toronto (voted for by audiences) have included Oscar winners Slumdog Millionaire and 12 Years a Slave.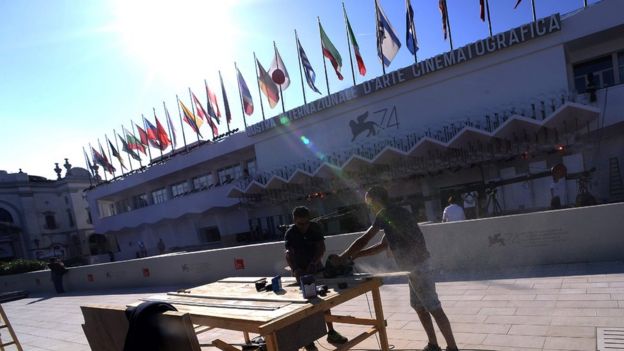 Image caption. The Venice Film Festival takes place at the city's Palazzo del Cinema
In recent years, only one best picture Oscar winner – 2011's The Artist – has not had its world premiere at one of these three festivals. And it's far from unusual for some films to play at two, or even all three events.
So what are the films to look out for after Venice?
At Toronto, there's The Current War starring Benedict Cumberbatch and Michael Shannon as rival electricity pioneers Thomas Edison and George Westinghouse; and Stronger, starring Jake Gyllenhaal as a man badly injured in the Boston Marathon bombing.
Telluride doesn't say which films it will be showing in advance. But titles that look set to be among this year's highlights include Battle of the Sexes, starring Emma Stone as Billie Jean King, and Darkest Hour, starring Gary Oldman as Winston Churchill.
Other hotly anticipated films that will be screened in Venice include:
Darren Aronofsky's Mother!, starring Jennifer Lawrence and Javier Bardem
Suburbicon, another Matt Damon film, directed by George Clooney
The Shape of Water by Guillermo del Toro, with Sally Hawkins and Octavia Spencer
Martin McDonagh's Three Billboards Outside Ebbing, Missouri, starring Frances McDormand and Woody Harrelson
First Reformed from Paul Schrader, featuring Ethan Hawke and Amanda Seyfreid
Victoria and Abdul, directed by Stephen Frears and starring Dame Judi Dench
Loving Pablo, with Javier Bardem (again) as drug lord Pablo Escobar
Human Flow, Chinese artist Ai Weiwei's documentary about the refugee crisis
Unfortunately, ordinary film fans won't get to see most of these films for several months.
Venice is taking some heat this year for having only one film directed by a woman among the 21 up for its main competition prizes.
"We have a long way to go in terms of parity," admitted jury president Annette Bening at a press conference on Wednesday. "But I think the direction we are going is positive."